Race date TBD
Pearsall Park
5102 Old Pearsall Rd,
San Antonio, TX
Register Now to run the race
Donate any goods and cash
Official Sponsorships are available
Earn community service hours for individual or group
How people can get help from
the Human Need Foundation
Up to the challenge! Run and Help!
Your donation will be used in the Southwest area of San Antonio where there is a great need.
This run also promotes healthy living where obesity is a great issue in the local area.
Our mission remains the same, that is,
to help disadvantaged families regardless of religion, race, origin, and other characteristics.
In this year, donations will assist our parish's contribution to COPS/METRO.
​
COPS/Metro (formerly Communities Organized for Public Service or C.O.P.S. and the Metro Alliance)
is a coalition of congregations, schools, and unions coming together
so that we can effectively act on behalf of families.
​
Packet Pick-up:
TBD from 3pm-7pm and Race Day from 7am - 8:30am.
Divine Providence Parish Office "McLaughlin Center" 5667 Old Pearsall Rd. San Antonio, TX
Any Questions? 210-623-3970
Pay $25 for each person.
Registration is only through the parish office.
Must have all registration forms to present at the administration office
(5667 Old Pearsall 78242)
​
If you don't want to or can't run/walk, but still want to support our event, $20 gets you a shirt!
Ages 14 & Under, 15-19, 20-24, 25-29, 30-34, 35-39, 40-44, 45-49, 50-54, 55-59, 60-64, 65-69, and 70+
Event Fees:
13 years and over -$30
Teens and Adults Category
​
Children 12 & Under
Event Fees:
$20
Deadline for Guaranteed T-Shirt
TBD
Select your own time time & day to run, not timed, $30
6333 Old Pearsall Rd, San Antonio, TX 78242
Q & A Enterprises
His Passion. God's Glory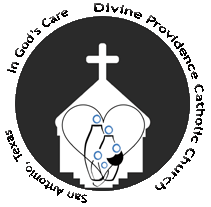 Kevin Quinn McEachirn
DJ Q-Mac "Muisc Mixologist"
We know that this is NOT
only a Fundraiser But also a
PeopleRaiser! Nominate
Someone...for $30 or Sponsor someone by paying their value to run.
​
(not refundable if your nominee doesn't run/walk)